The Freeman Corporation is a growing, multi-faceted wood veneer manufacturer and importer. Founded in 1914 by George E. Tomlinson and originally named Tomlinson Company, The Freeman Corporation began as a manufacturer of hardwood lumber, tobacco hogsheads (a type of tobacco storage barrel) and Tomlinson takedown tables, the first banquet tables capable of being instantly disassembled for storage. The sawmill steadily expanded and became a leading walnut lumber manufacturer. Following Mr. Tomlinson's death in 1953, Gene Freeman, Mr. Tomlinson's grandson, took over the company and expanded the walnut lumber production and log exporting business.
The main production facility is situated adjacent to Interstate 64 in Winchester, Kentucky. In 1968, the first veneer slicer was installed on an expanded 32-acre site. In 1978, a second machine was installed. In 1982, Mr. Freeman's two sons, Reid and George, joined the business and two years later a third veneer manufacturing line went into production. In 1988 the plant site was enlarged to 44 acres. In 1990 a high-speed rotary veneer line was added and saw milling operations were discontinued. In 1999 and 2000 the plant under went another major expansion. A fourth slicing line, the most modern ever constructed, and approximately 50,000 square feet of production area were added. The Freeman Corporation now has about six acres (approximately 260,000 square feet) under roof. Currently it produces about eight hundred thousand square feet per day of sliced and rotary veneers with 250 employees. Much of its dedicated processing machinery is unique and has been designed and built on site.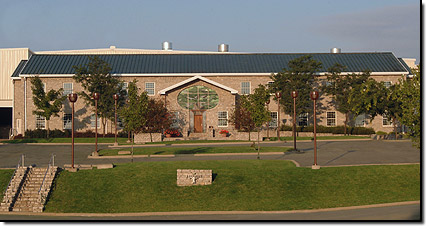 Gene Freeman retired in 1991. Reid and George Freeman now lead a strong and experienced team. Major customers include furniture manufacturers, furniture components manufacturers, veneer splicing plants, plywood factories, architectural millwork companies, veneer resellers, and flooring manufacturers in over 20 countries. Freeman normally inventories around 50 million square feet of veneer.
A new 22,000 square foot office and showroom was completed in late 1998. Many examples of wood veneer are exhibited throughout the new office, including over one hundred architectural doors and panels of different wood species from around the world. A remarkable stained glass window in the shape of a tree, and incorporating the office's front door as the tree's trunk, highlights the two story stone building constructed of hand split Kentucky limestone.
In addition to its own production, The Freeman Corporation purchases from around the planet some of the worlds most exotic and valuable veneers. It is recognized as the world leader in producing, sourcing, and marketing veneers manufactured from sustainable, well managed forests.